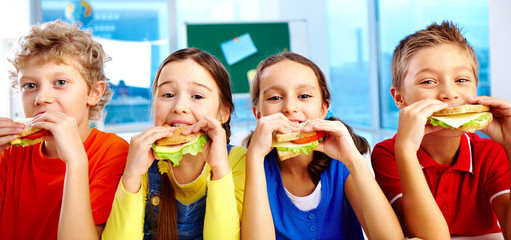 ---
"Healthy School" is a dynamic project within our establishment, and in which nutrition is an essential element, as well as an important moment for the students during their school days.
Our new school catering offer is developed by our partner Dussmann Catering, a specialist in Luxembourg already operating in the school catering sector.
---

Our Project is to offer each day and according to your choice of order, a hot, personalized, tasty and balanced meal for your child.
The Dussmann Catering teams work to help young people become responsible consumers, both through menu choices and through collaboration with an environmentally friendly industry, favoring fresh products daily and exclusively from our local suppliers and regional.
---
An online meal reservation system is available to allow you to order according to your needs and preferences.

Every day it will be possible to select one of the 3 hot dishes (dish of the day, pasta dish and vegetarian dish) and to choose an alternative of 2 desserts.
For secondary school students, the offer of 3 hot dishes will be supplemented each day by a sandwich menu, a salad menu and a Street Food menu.
---
Meals offered to students with food allergies
Dussmann Catering develops avoidance meals for food allergies and intolerances based on a PAI. Dieticians are in charge of specific diets and prepare on the basis of allergens to avoid a full meal.
A hypoallergenic strict avoidance menu can be specially designed and implemented when strict food avoidance is required, using Nutrisens dishes to exclude all traces of allergens.
These hypoallergenic menus are established by a dietician and constitute a balanced meal: they can be started on the basis of a medical certificate.
---